Challenge Circuit Championship Hole-by-Hole
This week marks the first ever Challenge Circuit Championship, which is being hosted at none other than my Doak Valley course. I have received a number of positive reviews for the course (thanks to everyone!), which is actually a remake of a previous attempt at the course in 2014. What some may not know, however, is that those holes you are playing that look vaguely familiar to you, well, those are actually meant to look familiar to you.
The namesake for the course is none other than noted golf architect Tom Doak, and this collection of holes is actually assembled from his book "The Anatomy of a Golf Course". In the book, Tom features several of his own drawings of famous and notable golf holes, highlighting the various strategic elements presented on each hole. The one exception to the rule is the 9th hole (Hole #3 at Pacific Dunes, a Doak creation), which was a late addition to the first Doak Valley creation in 2014.
For those who frequent the HB forums, you may have followed along with the progress of the course during the remake. For those who don't, here is a (maybe) helpful hole-by-hole account of each hole.
1st Hole – #1 at Long Cove (Dye) – Par 4
I've never been to South Carolina, so I don't have much knowledge of the area outside of Harbour Town. Long Cove is a course that I had never heard of, and I was surprised when I researched this hole that it was ranked by Golf Magazine as one of the Top 500 holes in the world. It's interesting to hear. I like it as an opening hole, but not sure about the Top 500…
Tom Doak description: "Diagonal carry is ideal for opening hole, testing player's confidence in his swing. 'Waste bunker' acts as buffer for water hazard, softening penalty for poor first drive. Fairway widens at left so a 'safe' drive won't run through the rough. Green runs away from middle to back, subtly penalizing longer approach shots."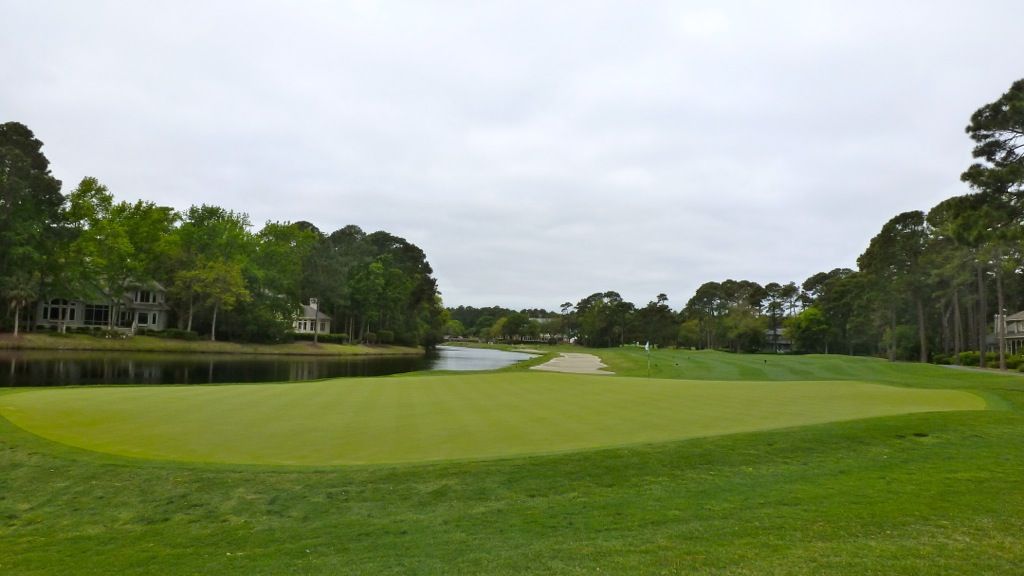 2nd Hole – #3 at Sunningdale Old Course (Park/Holt) – Par 4
As I started researching this course and hole, I came to read this whole write up: http://golfclubatlas.com/courses-by-country/england/sunningdale-golf-club-old-course/
I'm not going to lie, this course looks and sounds unbelievably awesome. I know the Senior Open was held there this year, but unfortunately I got to watch very little of it. The rain plus lack of coverage in the U.S. didn't help much, either.
Doak description: "Bunkers must be carried on drive for best angle of approach. Added bunkers keep long hitter honest. Green tilts towards bunkers on right, complicating approach from left."
3rd Hole – #10 at Black Forest at Wilderness Valley (Doak/Hanse) – Par 5
If you are keeping track, we've gone from South Carolina to England to Gaylord, Michigan. Being a native, I've been to the lesser Wilderness Valley course, but never Black Forest. I need to get that done, because I have yet to experience a Doak course in person.
This hole was a tricky one, because the real course plays through dense forest. The goal was to use just a handful of trees wisely to simulate the effect of the real hole.
4th Hole – #7 at Royal Liverpool – Par 3
During the original creation, which wasn't too long after Liverpool hosted the Open, I noted that I hadn't seen this hole or anything like it on TV. My research revealed a few noteworthy things. This hole, as it is drawn by Doak, actually no longer exists. It is replaced by a modified par 3 that now plays as the 9th hole. Finding info on the original "Dowie", as the hole is called, was quite difficult and I really only had the Doak drawing to go off of:
Due to lack of information, I decided to create the new Dowie, or the 9th hole at Liverpool.
Website description: "At 'Dowie', there is a lot to take in while standing on the tee. The wind is often coming from right to left and the pin position can make a big difference to your choice of shot. Bunkers front left and right protect a narrow green which will throw the ball from a less than perfect shot into complex swales."
5th Hole – #16 at St. Andrews – Par 4
From an appearance standpoint, this is a totally different hole than the real 16th at St. Andrews, but I think the strategic elements are there. The most room for driving is on the left side, either short of or long of the Principal's Nose. The riskiest play is along the right side and the trees (OB in real life), but allows for the best angle in to the green.
Doak Description: "25 yards of fairway between railway and Principal's Nose; plenty of room to the left. Short bunker on left and slope of green work against approach from left."
6th Hole – #11 at Oakland Hills South (Ross) – Par 4
Back to Michigan, I used to live 5 minutes from this place! I never realized until I looked up the real hole how much elevation change there was to the hole. I wasn't able to fully replicate the slopes, but I think it's still a good looking hole, and a real challenge.
Doak Description: "Tee shot must straddle ridge for best line to green; drive to [short right of bunkers] leaves uphill, semi-blind second shot. Green on saddle in ridge."
7th hole – #11 at St. Andrews Old Course – Par 3
Due to the layout of the entire course, this hole plays downhill quite a bit. The strategy of the hole replicates St. Andrews, however, in that the approach must be placed below the hole if you want a realistic chance at birdie. Recent alterations to the hole to allow a flatter back left area for a new pin also allowed me to put a pin back there, as well.
Doak Description: "Steep bank behind green and slope of green reward shot below hole."
8th Hole – #16 La Cumbre (Bryce) – Par 4
This hole just completely baffled me for awhile. I looked up La Cumbre, studied it on Google Earth, and just could not find this hole. I looked at the current 16th hole and it looked nothing like this. I tried to find info on changes to La Cumbre throughout history and could only find that Geoff Shackelford headed a restoration project on the course's bunkers. Finally something clicked when I looked at Doak's drawing and realized that it had been based on Goerge Thomas' 1927 book Golf Architecture in America.
I realized the possibility of this hole no longer existing. After a little more refined searching, I hit the jackpot at Golf Club Atlas. The info that I needed was in a book called The Missing Links. Luckily, this interview with the author revealed everything that I needed: http://golfclubatlas.com/feature-interview/daniel-wexler-march-2003/
8. You also profile Thomas & Bell's famous work at La Cumbre. Was this course really as good as advertised?
Definitely. We'll probably never know whose decision it was to ravage the place – or why – but that has to be one of the saddest stories in the history of golf design. The three holes routed around the lake were justifiably famous, but every hole was memorable in one way or another. And the 16th, of course, was surely among the most amazing par fours ever built. To me, La Cumbre had the creativity, the sheer originality, of Bel-Air and a lot of the challenge of Riviera or Los Angeles. Definitely a major loss.
9. How much of La Cumbre could be re-captured today if the club was so inclined? Or has housing extinguished all hope?
Maybe a little more than half. Housing or other construction has eaten up the south-central section of the course, wiping out holes like 5, 8, 9, 11, 12 & 15, plus the tiny 17th. The barranca that once flanked the property's eastern edge has been largely filled in, so rebuilding the All-World 16th would be unbelievably expensive. Perhaps the best news is that the famous lake-encircling holes (#s 2, 3 & 4) could potentially be reestablished– but someone would have to figure a way to sink the absurd island green that's been added to the 3rd. Talk about a hole that didn't need 'improving.'
This is sad that a hole that could be considered "one of the most amazing par 4's in the world" is gone and can't be recovered, and it's also intimidating, because now I have to build an "All-World" par 4 going off only a drawing. Furthermore, one of the main features of the hole that made it amazing was that it challenged the long-hitter to hang back off the tee for a better angle of approach, or play a more difficult approach by hitting it longer and left off the tee. Meanwhile, the shorter hitter still had a chance at making the green by using the sloped hill to the left of the green. In TGC, the short hitter route basically will not be a factor.
Doak Description: "Hill at front left will steer short ball down to green, but trees to left stop long hitter from bailing out. Long, narrow green for direct approach."

9th hole – #3 at Pacific Dunes (Doak) – Par 5
The original 9th hole was #6 at Royal Troon – Old, but it played as a long 3-shotter and to me just wasn't exciting enough and didn't fit with the round as a whole. I researched other par 5's in Doak's book to re-create, but then it dawned on me to find a new hole that Doak created to fill the void. After researching a few holes, I thought #3 at Pacific Dunes seemed like a fun, shorter par 5 to end the front 9 with.
While the hole is a fairly reliable birdie opportunity, the temptation for an eagle chance can lead to par or worse. The hole is almost always reachable, but you first must decide which side of the fairway to place your drive. The right fairway is slightly more open and forgiving, but leaves a long shot in directly over deep bunkers.
The 2nd shot will require you to choose how aggressive of a line that you want to take at the pin. The entire right-front edge of the green feeds into the bunkers, while the left edge of the green rolls off into a swale, leaving a difficult pitch to the pin. A shot that is long leaves a downhill chip or putt with the deep bunkers looming behind the pin.
10th Hole – #10 at Riviera (Thomas) – Par 4
The ability to drive the ball straight and accurately in TGC might prevent this hole from playing exactly like it's real life counterpart, which many call one of the greatest short par 4's in the world. The shape and slope of the green still provides the best entrance from the left side of the hole. Most importantly, this hole will make you recount your approach to the hole immediately after holing out, and make you wonder if next time you might want to try a different strategy, all in pursuit of the elusive "2" on the scorecard.
Doak Description: "Cross bunkers on right side of fairway punish a topped drive [hopefully you all can avoid that in TGC], but also mislead many players into playing the hole down the right side. Axis of green points to left, and green is tilted from right to left along its axis to make any approach from right difficult."
11th Hole – #10 at Highlands CC (Ross) – Par 4
The tee shot on this hole presents 3-4 different possible paths due to the creek running through the hole. The Donald Ross green presented a challenge in trying to fit it in with some of the more modest greens on the course. I tried not to go too overboard, but there's definitely a few corners of the green that couldn't hold a pin.
Doak Description: "A good 3-shot hole for short hitter – wide driving area, but must decide whether to carry last crossing of stream with second shot. Tee shot must hug stream or uphill approach will exceed 200 yards. Natural neck of fairway between hill and stream restricts long driving."
12th Hole – #4 at Riviera (Thomas) – Par 3
This hole is long, and a true Redan with the slope feeding in from right to left and with a front to back tilt. Going directly at this pin is a guaranteed ball off the back of the green. The slope on the right will need to be used, and shots that don't hit the green but end up just off the right fringe for an easy chip should be considered as very good approaches.
Doak Description: "Little differential between tees; shortest hitters must lay up short of bunker. Short hitter may use slope at right to kick ball down to edge of green, but must carry small bunker or fade around it, restricting bounce to left."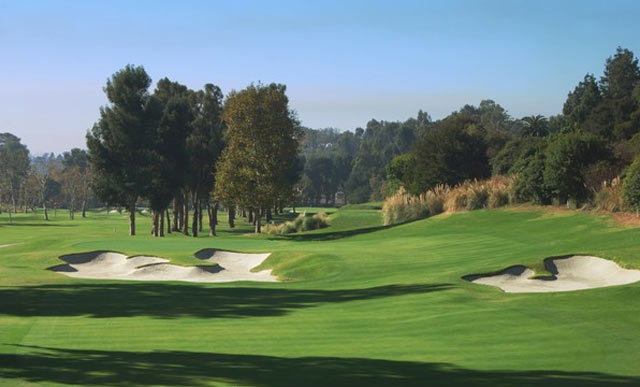 13th Hole – 16th Hole at Blackwolf Run River Course (Dye) – Par 5
In a true Pete Dye staple, the diagonal fairway/bunker combination requires the player to decide how much of the bunker to challenge off of the tee. Playing left over the longest part of the bunker brings the green into play on the 2nd shot. Any attempt at the green in 2 must navigate the tree in front and take the proper angle, while avoiding the water on the left.
Doak Description: "Long waste bunker on left penalizes a draw which turns into a hook. Tree on left stymies 'middle of the road' second shot, forcing player to choose between going for green to left of tree, hitting full second shot past tree on right for half-wedge approach, or laying back so tree can be carried on pitch."
14th Hole – #4 at Yale University (MacDonald/Raynor) – Par 4
I hadn't realized, but this hole, being a Raynor course, was intended to be a "Road Hole", essentially being influenced by #17 at St. Andrews. The water on the right side is intended to mimic the out of bounds faced on the Road Hole tee shot. There was an issue with the green site, however, so Raynor had to flip the green and give a more left to right slant rather than the left to right slant of the original. The result is that coming in from the left is a good idea here, while being a killer at St. Andrews.
Doak Description: "Point extends to direct line between tee and green, daring player to take the shortest route. Nook reigns in long drivers and serves as main hazard from forward tee."
15th Hole – #8 at Pebble Beach (Neville/MacKenzie) – Par 4
Holes that mimic real life all-time classics are hard. I think this green replicates that difficulty of the real green fairly well, with its small size and constant slope. The yardages should be close to its counterpart, as well, so the closer you can get to the cliff edge, the shorter iron you will have in your hand.
Doak Description: "Blind drive to top of hill, long hitters must be careful of driving over cliff edge. Odd arrangement of bunkering around green, but some fairway is provided short of green on direct line due to length of shot.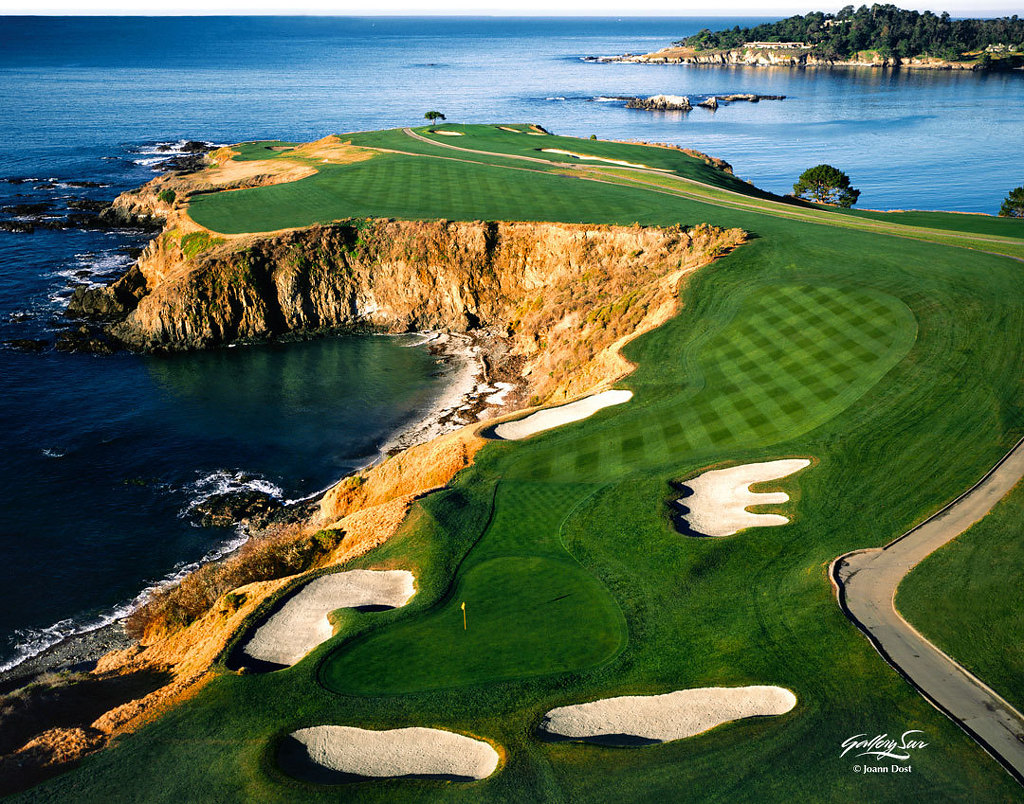 16th Hole – #16 at Cypress Point (MacKenzie) – Par 4
This long par 3 is a pretty nice compliment to the 15th hole in the closing stretch. It still can't even come close to touching the original, though, despite my best efforts.
Doak Description: "Fairway to left for short hitters, but a pulled shot which could have reached green will go over cliff on left. Green is large enough to receive a 220-yard shot, but three-putting is also common."

17th Hole – #17 at Muifield (Colt) – Par 5
This hole is one of my favorites in Open golf. The tee shot determines whether or not you can get home in two, let alone clear the cross bunkers. The farther right you aim off of the tee and away from the bunkers, the less chance you have to reach in 2, and the more the cross bunkers come into play.
Doak Description: "Deep penal bunkers on left of fairway, but drive must hug left side to shorten carry over cross-bunkers or length to green. Green in hollow angles back to right, making a tough angle for long second shot or for third from behind cross-bunkers.
Real Hole:
18th Hole – #4 at Myopia Hunt Club (Leeds) – Par 4
I took some liberties on this hole to give it a little more pop as the finishing hole. The trees on the left of the fairway set up a deceiving drive. The ideal line appears to be to hug the left side around the trees to gain as much distance as possible. The best angle to this heavily sloped green, however, is to aim for the flatter landing area to the right and just past the fairway bunkers. The green is tough, much like the original hole at Myopia.
Hope everyone enjoyed this architectural tour, and who knows, maybe we will see a Coore and Crenshaw Valley version in the future?